March 12th, 2012
For a couple months now I've been wanting to tackle recreating the famous McDonald's Big Mac at home… or as my wife would say, "I've had a bee in my bonnet." The goal here was to come as close as possible to the real thing and then of course enjoy the delicious sandwich with the one I love. The outcome? NAILED IT!
In fact, the outcome was so close to the real thing that I decided I had to go against my standard blog posts of nerdy computer geekdom to make sure I shared my success with all of you. Hopefully, this can inspire others to attempt the same.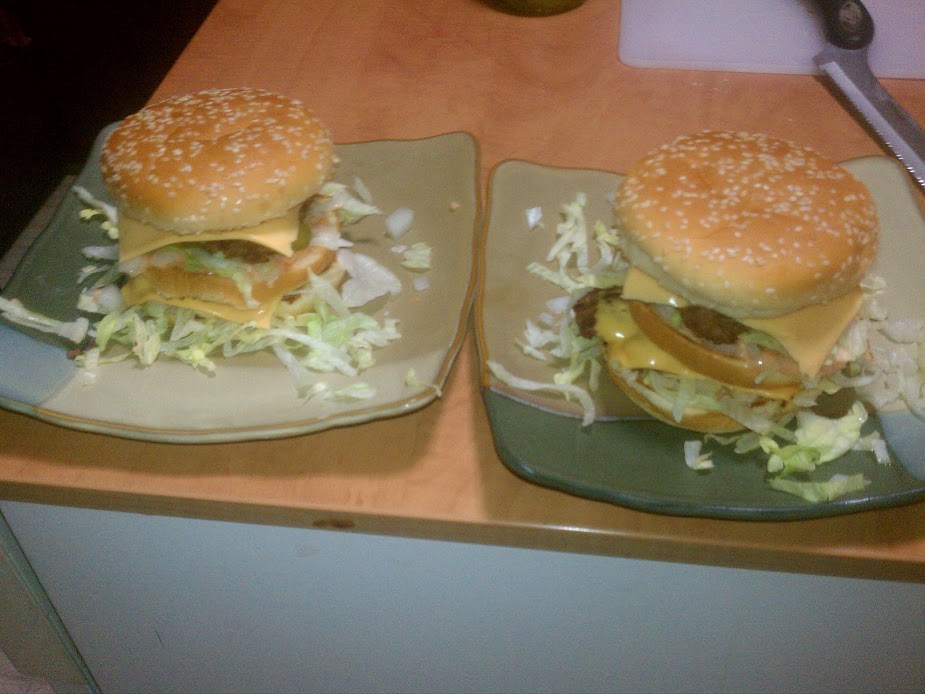 Before trying to recreate the sandwich I needed to do some research on it to see what others have done. In my research I learned a little bit of the history on this amazing burger. Did you know that it was created to directly compete with the "Big Boy" burger? Mmmm… Love Big Boy. It's too bad there aren't any in my area anymore.
Anyway, before any of you think that I did this on my own, I want to make it clear that I've really only modified other Big Mac copycat recipes that are already available online. My versions are based on these two links (Copycat McDonald's Big Mac Sauce for the sauce and McDonald's Big Mac for the assembly) with only slight modifications.
McDonald's Big Mac Sauce 1 Cup - Miracle Whip 1/3 Cup - Sweet Relish 1/4 Cup - French Dressing 1 Tablespoon - Sugar 1/4 Teaspoon - Black Pepper 1 Teaspoon - Minced Onion
I've left this recipe untouched from the original post for posting, however, when I made the sauce I ended up adding a little more relish then what it calls for.
Mix all the ingredients together in a bowl, cover and refrigerate for at least an hour. This will help all of those yummy flavors get to know one another.
The above recipe makes about two cups of sauce. So, I had PLENTY left over sauce when I made only two Big Macs.
McDonald's Big Mac & Assembly 1 Hamburger Bun with Sesame Seeds 1/2 Additional Hamburger Bun 1/4 lb Ground Beef 1 Dash Salt
1 Tablespoon Kraft Thousand Island Dressing
– We'll use our special sauce above. 1 Teaspoon Finely Diced Onion 1/2 Cup Chopped Lettuce 1 Slice American Cheese 2-3 Dill Pickle Slices
This recipe can be found at Food.com. They have a cool tool on there to automatically calculate ingredient quantity. I found that 1 lb of ground beef will make 3 Big Macs (6 patties total).
1. To prepare the middle bun, using a serrated knife slice the top crust off of a the top of a bun. (or the bottom crust off the bottom of a bun).
2. Using an electric griddle, set it to around 300-350 degrees. Lay the buns on the griddle to give them a slight toasting. Don't forget to toast both sides of the middle bun. Once toasted, pull the buns off of the heat and set aside.
3. With the ground beef make two thin patties per Big Mac with a circumference slightly larger then then buns. Lightly salt.
4. Cook the patties on the griddle for about 3 minutes on each side. If you wanted you could also melt the slice of cheese just before the final side is finished.
5. Assemble the sandwich from the bottom to the top in the following order:
Bottom bun Lightly cover the bottom bun in some of our Big Mac sauce from the first recipe Diced Onion Chopped Lettuce American Cheese Beef Patty Middle Bun Lightly cover middle bun with Big Mac sauce Diced Onion Lettuce 3-4 Pickle Slices Beef Patty Top Bun
Whether or not you wish to believe it, I have found that the order is actually pretty important. The order not only allows certain flavors to exist in the correct area, but it helps keep the burger from falling apart as well as keeping the ingredients as fresh as possible before enjoyment.
One slice or two? The original Big Mac really only has one slice of cheese, you may notice in my picture that I have two… :) GASP! Since I'm from Wisconsin, it's all good. :) LOL!
---
---